Business Trends
The Spontaneous Eye
An Interview With Miami-Based Robin Hill
Photos © 2002, Robin Hill, All Rights Reserved
From the start, everything about this photographer's success story fascinated me. First, Robin Hill was born in Nottingham, England (home of the legendary Robin Hood), and moved from England to Miami, Florida. Talk about culture shock...but he made it work for him. Second, he pursued a style of photography he truly loved and third, he opened up a new market for his photography services by combining all these elements. Here is his story:
Architect Charles Giller designed this arch in 1964. Miami's answer to Eero Saarinen's arch in St. Louis.
Shutterbug: How did you find the lighting and photography style you now use, this "being in the moment"?
Robin Hill: We have to blame Miles Davis, jazz musician--my inspiration. Listening to his music one day, I asked myself, "Why don't I apply what he does to photography?" I took some acting lessons a few years ago to explore this and it helped with my photography, but it was really music, and in particular jazz music, that had the most profound influence. I was listening to Davis' classic album Kind of Blue one day a few years ago and suddenly realized what he was doing; he was actually being totally spontaneous and improvising the creation of music. For photography, it means being aware of the present moment in order to respond authentically.

So I called up my friend Taylor, who used to dance with the Harlem dance troupe and was photographed by Mapplethorpe back in the 1980s, and we went to the beach to shoot. The resulting photos transcended anything I had done before and there was an amazing synergy created between myself and Taylor. One of the photos from that day has taken on a life of its own and since Taylor passed away due to AIDS in '99 it has been used to raise funds for artists and dancers living with AIDS.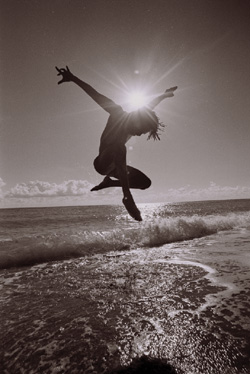 Dancer Taylor Clifton soars dramatically above the Atlantic Ocean, holding an impressive pose for 1/4000 sec.
Then the MiMo people saw my travel work and loved the funky, whimsical style in that work and wanted that applied to their buildings. That's how it all started.

SB: What effect has this had on your career?

RH: All of this started before 9/11. About 70 percent of business was in travel and in-flight magazine photo assignments. After 9/11 everything changed completely. Just before the attack I got hired by the Urban Arts Committee; they work on the preservation of Miami Modern (MiMo) architecture. They hired me to shoot these mid-century buildings in Miami--they are both futuristic and optimistic and very inspiring. I knew I could not use a conventional architectural photography style. When I started getting into architectural photography I noticed that most photos of buildings were of a similar type. Technically most of them were flawless but there was something that missed the "essence" of the building. I decided to approach architecture in the same way I had been shooting my other photographic subjects. I shoot quite fast, move around a lot with a minimum amount of equipment, and play around with the interplay of light and shadow (something the best architects know how to do very well). There's this great marriage between architecture and photography because of the fact that architects use light and shadow to make their buildings look interesting and light and shadow is the very foundation of a photographer's work.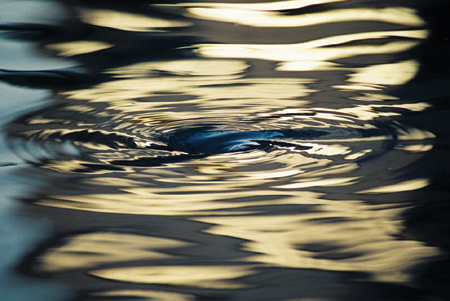 On Lincoln Road in Miami Beach there is a piece of public art designed by famed architect Carlos Zapata. The reflecting pond was being cleaned by the city and they were draining the pond through "escape holes." The light and shadow is reflecting off a skyscraper next to the pond.
FEATURED VIDEO