Broncolor Senso/Litos Lighting System: A Class Act In Studio Lighting
"A studio session…provides the greatest chance for control."—Eve Arnold
The monolights that I've recently tested for Shutterbug combine power supply and flash head into a single unit. Handy, but an alternative approach is using power pack and flash head systems, such as those made by Broncolor (www.bronimaging.com), who offer these components as individual units that can be mixed and matched to produce different lighting setups.
What's the advantage? Because there's no internal power supply, their Litos flash heads are much smaller, allowing you to place them in locations where larger monolights might not fit. Having the power supply in a single unit lets you control more than one head at a time and the output for each flash can be controlled separately in either symmetric or asymmetric (equal or more or less light output from each head) configurations.
The Senso capacitor can have greater, well, capacity, than what's built into a monolight because the design needn't be concerned as much about heat buildup affecting the flash head (as with a monolight), allowing more flash heads to be connected, along with the ability to produce overall higher output. Broncolor's Senso lighting systems combine their Litos heads and Senso power packs to produce a powerful yet simple-to-use studio lighting tool that provides a high-quality lighting solution for anybody, including the classic Mom and Pop studio.
What's In The Kit
The two-light Senso Kit 22 that I tested includes a Senso A2 (1200 joules) power pack, two Litos flash heads, speed ring, 28x28" light bank, 16.4-foot sync cable (albeit not red as in the product shot), and an extremely well-made case that's not an afterthought but is designed to properly store and protect the components.
Much as a digital camera's resolution is measured in megapixels, flash output is often measured in watt seconds (ws), a unit of electrical energy equal to the work done when a current of one ampere passes through a resistance of one ohm for 1 second. Sometimes called a joule, it's another way to measure the power and discharge capacity of an electronic flash's power supply. Think automobile horsepower, but because neither watt seconds nor joules consider reflector design, it's not a perfect indication of the total amount of light that can be produced. In practical terms, a 1200-joule power pack at ISO 100 and a 3:1 lighting ratio allows you to shoot between f/14-16 at half power in a small studio like mine, with lights placed close to a single subject. At the same time there's more than enough power to photograph family groups in studio or on location. Need less power and larger apertures? You can dial output back using the illuminated controls on the power pack. More details? See the technical specifications provided on Bron Imaging's website.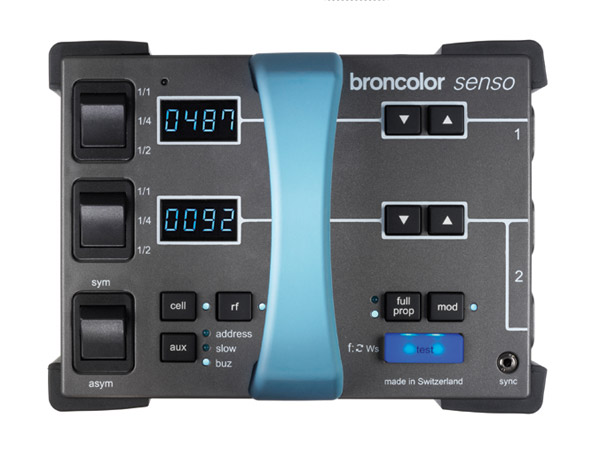 The Litos flash head was developed to match the Senso power packs and is compact, and relatively lightweight; while its official weight is 5.1 lbs, most of that is found in its 14.8-foot cable. The head has a release button that allows quick reflector changes with a 360˚ rotation. The reflector has an ingenious design; it's reversible and can be covered by a protective cap (think lens cap concept applied to flash head) between sessions.
Each Litos head also features an integrated umbrella holder and a pan-and-tilt head for one handed operation. Because these heads are so light—especially compared to a monolight—it's much easier to make small adjustments on position and tilt. The Litos' accessory bayonet mount is compatible with other Broncolor system heads, giving you access to a comprehensive range of light shapers and accessories.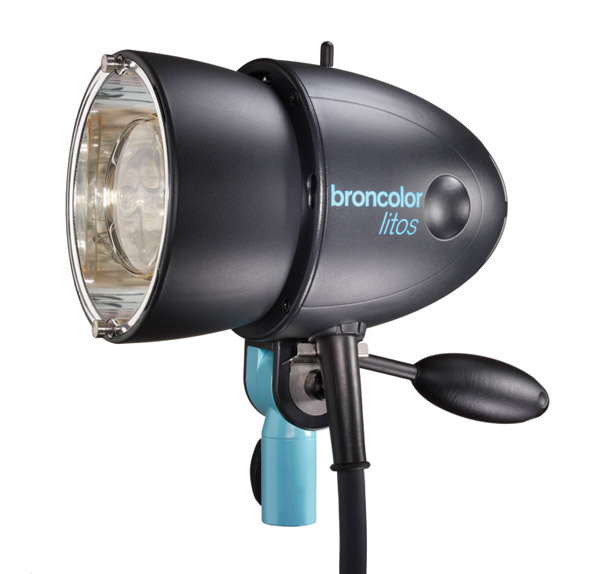 The microprocessor-controlled Senso A2 power pack has three outlets that are controlled over two channels with a 6.5 f/stop maximum range that can be controlled in whole or 1⁄10 stops. If the unit is switched off or if there's a power loss, the Senso's built-in memory function preserves your last settings. The head's built-in modeling lights offer full or proportional levels and the power pack has a visual and audible flash monitor that may be switched off.
One thing I did notice is that these lights can get warm. Because my new studio is in a cool basement, I've been monitoring its temperature and noticed that after a two-hour session the modeling lights raised the ambient temperature two degrees. It only made my studio more comfortable but if your shooting space is normally warm you'll need to plan ahead.
All of the components in the Senso/Litos system are not only easy and intuitive to use but extremely—and I mean extremely—well made. At $4390 for this particular kit, everything in it has clearly been built to a high standard and not to a price point. What this translates into in the long run for the user is a rugged and dependable system that should give many years of faithful service. Broncolor offers many accessories and light modification devices that will let you grow within the system.
In The Studio
The Senso/Litos system has an optional ($165 for a single transmitter) RFS 2 interface for flash triggering via radio or you can just plug in the included 16-foot sync cord. The RFS 2 works so great that I didn't use the cord at all. The RFS 2 triggering system allows independent flash tripping in the same studio on 99 units per workstation (99 workstations maximum), eliminating any possible unintentional triggering. All Senso power packs can be triggered via radio over a distance of up to 650 feet, not that my modestly sized studio or even your BIG one will exceed that distance.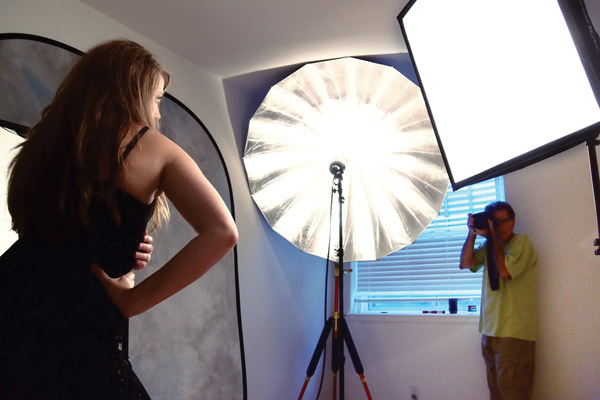 A single 3v CR2450 coin cell lithium home medical battery powers the transmitter and when I went to use the RFS 2 for my second session, it was dead. To be fair, I don't know the age of the batteries that Bron Imaging provided but it doesn't take long to sync a revived RFS 2. A word to the wise though is to have extra batteries on hand; they cost less than $3 each. Senso power packs are also equipped with a photocell a.k.a. old-fashioned slave unit and can be triggered by any flash. You can turn it on by simply pushing the illuminated button on the Senso power pack labeled "cell."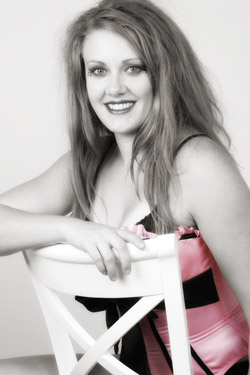 Setting up the two-light Senso Kit 22 was pretty simple. It was so simple I didn't even have to do anything! I took off for a nine-mile trip to the FedEx Office to ship the last lighting kit I tested back to its manufacturer and when I returned to the studio Mary had set up everything except the RFS 2 remote trigger, which took only a brief glimpse inside the comprehensive and well-illustrated user's guide. Thanks, Mary. Otherwise she didn't look at the manual once before we made our first test shot. (You can see one of those test shots in my upcoming review of the Canon EOS Rebel T3.)
Since no light stands are included with the kit, she plopped the Litos heads onto two Flashpoint (www.adorama.com) light stands that I had laying around, installed the Broncolor speed ring and 28x28" square light bank, stuck a 32" Optical White Satin Westcott (www.fjwestcott.com) umbrella in the second head, and, as they say, "Bob's your uncle."
The Senso power pack is fan cooled for long flash sequences and thermal protection and because a Litos head is much smaller than a monolight, there's room for cooling fans inside them without the head size getting too large. The integrated cooling fans only switch on when the temperature of the power pack reaches a certain threshold but when they kick on at the same time it can get a bit noisy, especially if you like a really quiet set. If you like to play Guns N' Roses during a portrait session you probably won't notice.
Switching the second Litos head to a 60" silver Booth Photographic (www.boothphoto.com) parabolic umbrella provided better fill than the small umbrella I started with, and the power pack's controls were used to put more power into that large umbrella. In symmetry mode, three lamps can be connected in parallel. In asymmetry, channel one is assigned to lamp outlet one while channel two routes power to outlets two and three. The output selected for each channel is shown in big bright (and blue) numbers and displayed in either apertures or joules. Senso power packs are designed for photographers who are on the international road and will operate on either 240v or 100v current.
I used the Senso/Litos system in many ways: two lights with a light bank as a main and two different-sized umbrellas as fill; two lights with a large parabolic umbrella as fill; two lights with the parabolic umbrella used as the main light and the Broncolor 28" light bank used as a back/hair light; and one light with the 28" light bank. In all these various configurations I was able to change power settings on the Senso power pack easily enough, putting just the amount of light I wanted to place in whichever head was doing whatever job. For a two-head system the versatility was unmatched, although occasionally I would have liked a slightly longer cord on one of the heads as I was trying all these various lighting configurations.
Broncolor's Senso Kit 22 does everything a well-constructed power pack and head system should do but does so with a level of style and precision not often found in studio lighting gear. Shooting with the kit in my studio was a delight and while camera bodies and sensors may change over the years, the need for good lighting equipment will remain unchanged. To me that makes Broncolor's kit a good investment for the future. The Senso/Litos system is part of a larger overall system that includes accessories ranging from strip lights to grids to ringlights and more that are designed to fit the job at hand, providing a gateway to the larger world of Broncolor. Orson Welles' Harry Lime (in the film The Third Man) was wrong; this Swiss-made gear is built better than a cuckoo clock.
For more information and to see technical specifications on these products, please visit the Bron Imaging website at: www.bronimaging.com.
FEATURED VIDEO