Book Reviews
Lighting And Posing Techniques For Photographing Women; by Norman Phillips; Amherst Media, 128 pages; $34.95; (ISBN-13: 978-1-58428-221-1)
This guide offers a bounty of advice from such talented photographers as Rick Ferro, Tom Lee, Tony Corbell, and Sheila Rutledge to name a few. Norman Phillips uses 240 full-color images from these top professionals to highlight the in-depth lessons on posing techniques for a single subject and groups, use lighting to sculpt the face and figure, how to create winning portraits on location or in the studio, and how to get the most from any type of portrait shoot.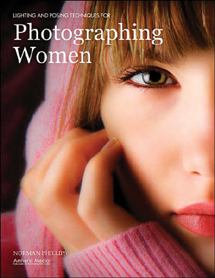 Master Guide For Team Sports Photography; by James Williams; Amherst Media, 128 pages; $34.95; (ISBN-13: 978-1-58428-215-0)
The business of team sports photography can be both lucrative and highly competitive. As a result, it is imperative that your work stands out from the crowd. Professional photographer James Williams can show you how it's done. His guide provides tips that can improve your business by showing you how to set short-and-long term goals, creating your professional image, choosing the right equipment for the job, selecting novelty props that appeal to clients, designing picture packages and setting the right price, also how to capture the perfect sports shots. Williams' advice is certain to help you reach your goal and stay ahead of the crowd.
Encounters With The Strange And Unexplained; by Matt Hoyle; Andrews McMeel Publishing, LLC, 140 pages; $24.95; (ISBN: 978-0-7407-6935-1)
Acclaimed photographer Matt Hoyle presents this fascinating collection of portraits and eerie tales. Encounters With The Strange And Unexplained documents 60 actual accounts with restless spirits, bizarre monsters, and UFOs from across America. Together, the images and creepy tales offer a wealth of spooky entertainment for true believers and skeptics alike.
FEATURED VIDEO