Book Reviews
Fine Art Photography: Water, Ice And Fog: Photographic Techniques And The Art Of Interpretation For Digital And Film Photographers; by Tony Sweet; Stackpole Books, 112 pages; $19.95; (ISBN: 978-0-8117-3349-6)
Accomplished photographer, workshop instructor, author, and lecturer Tony Sweet brings us this beautifully crafted book. It contains a fine collection of 71 color images expertly paired with informative text that reveals the story behind each photo and the equipment used to capture it. Together they make this book both inspirational and highly educational.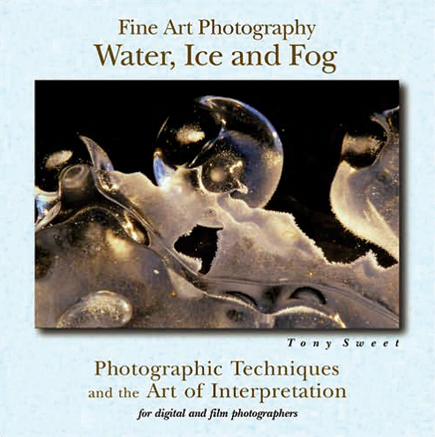 How To Grow As A Photographer: Reinventing Your Career; by Tony Luna; Allworth Press, 232 pages; $19.95; (ISBN: 1-58115-446-1)
Creative consultant Tony Luna reveals the secrets of long-term success from professional photographers Barbara Bordnick, Dean Cundey and many more. Luna teaches you how to breath life back into your career by examining the three essential elements of success and how to make them work for you. His helpful guide is filled with informative tips and real life stories designed to assist you in your continued evolution as an artist.
Journey Through Japan; text by Hans H. Kruger, photographs by Keystone/Keyphotos Japan; Tuttle Publishing, 120 pages; $29.95; (ISBN: 0-8048-3639-6)
This fascinating title is a virtual tour that highlights the natural beauty, traditions, and modern wonders of Japan. Kruger is your guide as you explore ancient architecture, colorful celebrations, and futuristic shopping districts aglow with neon lights, along with the daily life of a culture that embraces the old as well as the new. It is also an excellent resource if you are planning a visit to Japan and a copy of Speak Japanese Today: A Self-Study Program For Learning Everyday Japanese by Taeko Kamiya (ISBN: 0-8048-1563-1) would help bridge the language barrier, making your stay much more enjoyable and rewarding.
Master's Guide To Wedding Photography: Capturing Unforgettable Moments And Lasting Impressions; by Marcus Bell; Amherst Media, 128 pages; $34.95; (ISBN-13: 978-1-58428-197-9)
Internationally acclaimed photographer Marcus Bell used his years of expertise to create this highly informative guide on the art of wedding photography. In order to assist you in fully realizing your potential, he provides tips on building a relationship with your clients to provide greater insight into their personalities and the things that matter most to them. Bell also helps you use the hottest photojournalism techniques to capture the emotion of the event. With the aid of 200 color sample images he walks you through every phase of capturing the perfect wedding shots.
FEATURED VIDEO