Book Review
Professional Commercial Photography: Techniques and Images from Master Digital Photographers; by Lou Jacobs Jr.; Amherst Media; $34.95; (ISBN-13: 978-1-58428-269-3)
Author Lou Jacobs Jr. provides valuable insight into the demanding world of professional commercial photography in this informative guide. He uses a collection of 160 color images to highlight special tips, tricks, and techniques from such notable talents as Pete Springer, Wendy Nelson, Gary Harper, and Mike Schaffer. These professionals offer a glimpse at nearly every aspect of the field from fashion to architecture while offering advice on equipment, marketing, and staying ahead of the pack.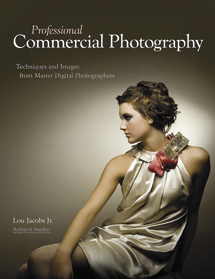 On-Camera Flash: Techniques for Digital Wedding and Portrait Photography; by Neil van Niekerk; Amherst Media; $34.95; (ISBN-13: 978-1-58428-258-7)
In this guide noted photographer and instructor Neil van Niekerk shows you how to compensate for less-than-perfect lighting while shooting on location. His easy-to-follow instructions cover choosing the right flash mode for the shot; controlling color balance and intensity; using a high-speed flash sync; maximizing flash efficiency and range; using fill flash; and controlling light ratios. Niekerk explains everything you need to know about properly using a flash to capture the best possible image each and every time.
FEATURED VIDEO