The Bag Man Reviews Newcomer TEKNIQ Photo's Modular 3-in-1 Camera Bag
They are an American success story. TEKNIQ Photo launched its first camera bag in April of this year on Kickstarter. By June 27th, they had raised $73,874 and had 478 backers. Their product is unique—a modular camera bag that gives you three bags in one.
But can a one-trick pony survive in an already crowded arena? I decided to check it out myself in this photo bag review.
Design
The TEKNIQ Modular Camera bag is built on an ingenious idea. It can change from a backpack to a sling bag or a shoulder bag simply by disconnecting unneeded compartments. It's a bit like a three-stage missile, or better yet, a vertical condominium.
The main compartment is partitioned by moveable dividers and attaches to the removable top by means of a wrap-around zipper. Two clever two-way straps firmly secure the top to the bottom for worry-free transport. The top section has a nicely padded haul handle and unzips to hold a couple lenses or maybe a smallish camera body and a lens.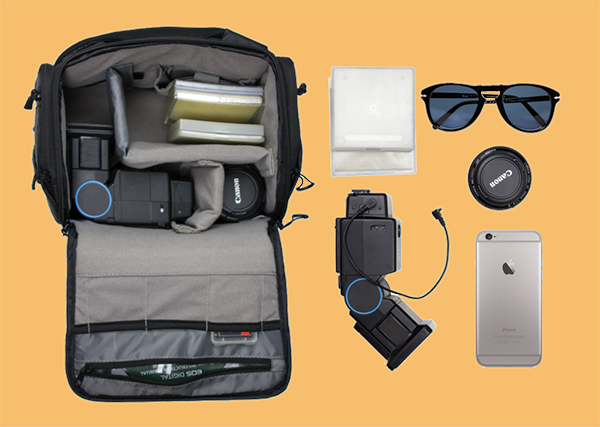 It's obvious that a lot of diligent thought and design work went into the creation of this bag. There are well placed compartments that are zippered off, and the assortment of supplied accessories is impressive. The exterior fabric is decent and appears to be reasonably resistant to abrasion.
Build Quality
Unfortunately, the quality of materials and construction does not live up to the dream envisioned for this bag. Some of the zippers are waterproof and others are not. Some have robust zipper pulls and other are strung with fitful, string-like things. In a marketplace where sturdy YKK zippers rule, this is a significant breach.
Many interior seams and runs of trim piping appear to be single-stitched. That's a major no no. I really want to like this bag because it has so much potential, but I cannot give it high marks for durability or longevity.
Pricing
The TEKNIQ modular camera bag can be ordered directly from the source for $250. Follow this link. That's the same price Lowepro charges for the most expensive piece in the ProTactic series, a line of backpacks and bags we reviewed recently.
Even with the unique modular features, it's going to be hard for a brand without a track record to command the same bucks. But that will ultimately be decided by the marketplace.
In the meantime, the folks at TEKNIQ have made a very generous discount offer for Shutterbug readers only. Order online from their website and use code "shutterbug10" at checkout for 10% off through Black Friday (midnight Nov 27).
Each bag includes the following items: modular camera bag, backpack shoulder straps, one combination strap, one backpack waist strap, rain cover, tripod holder and tripod strap.
They have also pledged to donate an undisclosed portion of the proceeds from each bag sold on their website to support the activities of the Himalayan Cataract Project, a charitable organization that provides Ophthalmologists who perform cataract surgery on patients in and around Nepal. Many of these people have had significantly impaired vision for decades—until the miraculous procedures carried out by this group. You can watch a heartwarming video here.
There are 18 million people in the world who are functionally blind because of fully treatable cataracts. Who understands the importance of clear vision more than photographers?
—Jon Sienkiewicz
FEATURED VIDEO