Asus PA249Q ProArt LCD Monitor: An Affordable Professional Display
"Over the last few years seeking monitor/display units that serve to perform with adjustment and color management to resolve the problems of too bright LCD displays causing too dark prints, my reaction has usually been mixed. I have to report that this was less so with this display than with even more sophisticated and expensive displays."
The Asus PA249Q is an LCD display with an LED backlight that offers ISP 10-bit, a very smooth response, and covers 99 percent of the Adobe RGB spectrum. It will adjust in brightness, with white luminance down to 80.0 CD/m2, and provides as good a visual working space as can be achieved for photo editing. And it sells for about $500 at many online stores, so it is affordable for many serious photo enthusiasts.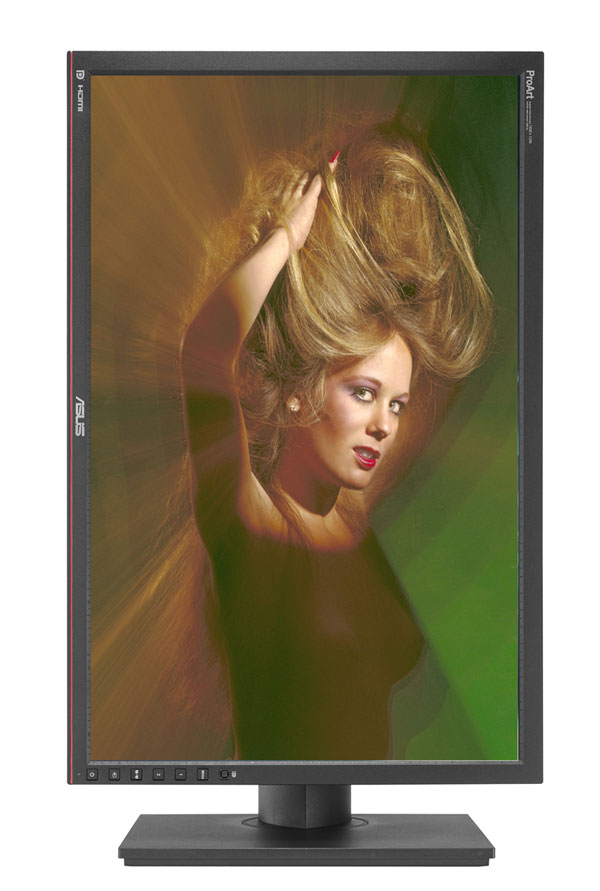 This 24" display mounts on a very rigid, solid stand that provides vertical, slant, and rotational positioning. The display controls are through physical buttons with an on-screen readout, and they are not at all jittery and flimsy. The modes that may be selected include Adobe RGB as well as sRGB, plus others suited to videography and graphic design. Connections on the display for input from a computer include DisplayPort, HDMI, DVI, and D-sub.
The screen size is 1920x1200 pixels in the most popular 24" display size, so it easily fits into a multiple display setup. I also found, using an X-Rite i1Display Pro to adjust, calibrate, and profile the PA249Q at the RG Phosphor setting, that it supports the ADC automatic brightness adjustment capability that is part of the X-Rite display management system. In other words, the Asus PA249Q is easy to manage, but also provides the most precise adjustment and profiling I have experienced.
Working With The PA249Q
After receiving the PA249Q I connected it to my newest Mac mini. Connection was particularly quick and easy as all of its components agree with industry standards; there are no peculiar quirks or hidden adjustments. I also found that once it was adjusted and profiled that it comes up to working status quickly, requiring little warm-up. While running it generates little heat, and being LED uses less electricity than a CCFL display. What is reproduced on the Asus screen is clear and steady, sharp and well defined, so it is easy on the eyes.
To test the Asus PA249Q I chose 35mm film to make 16-bit Raw scan files from my archives. From experience I have found this adaptation of film images to finished digital image files the most challenging in computer editing, requiring precise visual evaluation of all dimensions of a picture's attributes. Considering this is my last report (see note at end of article—Editor), I assumed the privilege of choosing original photographs to work with that are of special meaning to me. And, because that is what I photographed most, there are many portraits of pretty models in this selection. To represent them most effectively also required a bit of careful retouching to perfect the image without changing the look of the subject.
Over the last few years seeking monitor/display units that serve to perform with adjustment and color management to resolve the problems of too bright LCD displays causing too dark prints, my reaction has usually been mixed. I have to report that this was less so with this display than with even more sophisticated and expensive displays. Everything I needed to do, from making basic image adjustments to fine-tuning color balance, appeared to work immediately and directly. Once I began cleaning up image defects and retouching facial anomalies, I was equally impressed with its performance.
Evaluation And Recommendation
I am pleased that this last report of mine is about what I consider the most important part of a digital darkroom, the means to see what you are doing. Sadly, because so many monitors are included as part of a computer purchase, photographers and their editing needs are not well served, and often not even considered. The result is that many unwary buyers get monitors that reproduce a variety of application screens with high brightness and photographs that are distorted by a limited color spectrum. The result is often dissatisfaction and, as I have reported over the years, prints that are too dark or that do not match what appears on the monitor.
My recommendation is to add an Asus PA249Q to your computer system and then use the old home/office display for extra space and to reproduce sRGB/JPEG files. Then you have the best of both worlds, photography and the rest of computing. Considering what D-SLR cameras and good lenses cost, you should invest in a display that allows you to see your images accurately.
For more information and full specs, contact Asus at www.asus.com/us.
Editor's Note
Along with this report David attached a short note. "This is the very last product report I intend to write. After 41 years of writing about photography I hope I have earned some rest." While we are indeed saddened by this, I have to say that David has throughout his long career provided both inspiration and an important contribution to photography, and especially with Shutterbug his knowledge, experience, and passion about color management, display performance, and image-editing tasks. His campaign about the "prints too dark" issue unearthed one of the industry's dirty little secrets, and has resulted in a new awareness of the qualities, and procedures, one must understand when making important purchases for the digital darkroom. He was not hesitant to call it like he saw it and challenge assumptions and manufacturers, and sometimes readers, but behind it all his intentions were to broaden our knowledge and help us get the best results from our images. In an age when the information disseminated is often no more than a pale mirror of the manufacturer's party line, David stood apart and always had his readers' best interests at heart. We will miss his wit, his acumen, and his presence in these pages. However, on a happier note, David will continue his Digital Help column to assist readers in their creative endeavors.
FEATURED VIDEO