Another Happy New Year; Start Making Your Digital Resolutions Now
"It's just another New Year's Eve. Let's make it the best."—Barry Manilow
OK, I admit it. I like Barry Manilow's music. Heck, I even like Ray Stevens's song "I Need Your Help, Barry Manilow" and am amazed you can't buy it on iTunes. So what's your New Year's resolution? Quit smoking? (I did that 30 years ago.) Lose weight? (I've given up on that, it's hopeless.) So I decided on something that I can do and maybe you can, too—make and post a new photograph each day in 2011. I've created a gallery called "2011 Photo of the Day" (http://farace.smugmug.com) and you can visit it from time to time to see what I'm up to. Highlights will be posted on my Twitter page (www.twitter.com/joefarace) so please follow me there for updates.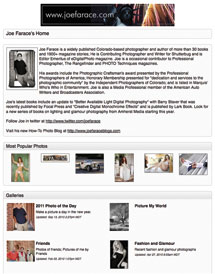 Calibrating SLR Camera And Lens Combinations
The worldwide launch of Datacolor's (www.datacolor.com) SpyderLensCal took place at photokina where they allowed attendees to calibrate a camera body and lens. SpyderLensCal is an affordable ($59) method for measuring the focus performance of camera and lens combinations so they produce razor-sharp focusing by using modern SLR autofocus micro-adjustments. Many newer SLRs have a lens micro calibration feature that requires a reference test system to adjust autofocus. SpyderLensCal was designed to correct autofocus by letting photographers store this data in custom camera settings so they can easily change from lens to lens without having to recalibrate. SpyderLensCal is lightweight, compact, and tripod mountable for maximum consistency. It even features a built-in level. Molded from durable resin, SpyderLensCal is a long-lasting photo accessory that's able to handle even the most extreme working conditions. Go on. You know ya want one.
Real Video For Real SLR Shooters
I've said it before and I'll say it again: you're not a videographer just because your SLR shoots video clips. In addition to experience and a bit of talent, you're going to need the proper accessories that make your SLR video-friendly. Nobody does that better than Redrock Micro (www.redrockmicro.com) who just introduced their nano line of accessories for SLRs that shoot video. The nano line is an extension to Redrock's current equipment and rigs that are specifically designed for entry-level photojournalism and documentary video applications. The system consists of seven new rigs and accessories that are manufactured to professional standards and can be upgraded to advanced rigs as required. The new rigs are smaller, lightweight, and offered at a more affordable entry point than typical Redrock products while maintaining precision build quality and interoperability. The new rigs include the Grippit, RunningMan, Low Down, Low Down Deluxe, Stealth, Stealth Grip, and Stealth V ("vee"). Each one is designed for a specific shooting style as you can see by the illustration showing (left to right) RunningMan, Stealth V, and Low Down Deluxe. I've requested a RunningMan to use with some new SLRs I'm testing so look for additional hands-on comments real soon now. Redrock nano rigs are "aggressively priced and are generally under $495" and if you've ever priced pro video gear that will look like a bargain.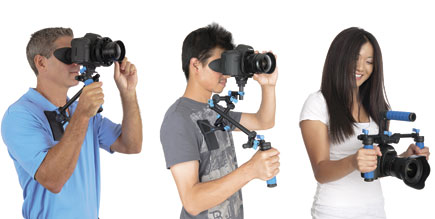 Sans SerifSerif Ltd's (www.serif.com)
Windows-only PhotoPlus X4 is an inexpensive ($89.99) way to organize, edit, and get creative with your digital photos. PhotoPlus X4 has features typically found in more expensive software, including Raw support, HDR imaging, plus layer management with nondestructive filter and adjustment layers. The program incorporates AlbumPlus Organizer for viewing, managing, and sharing photos, and a bonus copy of PanoramaPlus X4, Serif's photo-stitching software. Meanwhile, inside PhotoPlus X4, PhotoFix groups common tools and adjustments, making them accessible and easy to apply. You can straighten and crop photos, fix redeye, remove blemishes, edit using curves, and apply nondestructive adjustments to a photo or areas of an image using masks. Image Cutout Studio lets you extract people and objects from a photograph and the Filter Gallery supports 16-bit per channel images. PhotoPlus X4's Adjustment Tab lets you adjust levels, color balance, or saturation by choosing a preset or creating your own. All adjustments are nondestructive so they don't overwrite your original image. PhotoMap is a Google Map of the world with markers showing where your photos were made. If your camera supports geotagging then your images are automatically displayed on the map but they can also be manually dragged and dropped. There's a lot here for less than $100!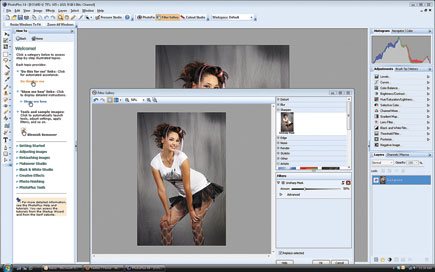 Photos © 2010, Joe Farace, All Rights Reserved
Vintage Delish Lightroom Presets
I'll confess that it has taken me up to Lightroom 3 to get even mildly interested in a product that many readers embraced long before I did. One of the things that really gets me going is plug-ins and while Lightroom has a completely different structure than Photoshop, it does allow for the integration of Presets and Kubota Image Tools (www.kubotaimagetools.com) has some of the best, including their latest—Vintage Delish. This set offers a multitude of preprogrammed shortcuts that create image effects devised by imaging dervish Kevin Kubota. This latest edition includes 42 custom Develop Presets for Lightroom 3 that evoke nostalgia as far back as 100 years. These Presets produce images with fashionable vintage looks that your clients will love; I get a kick out of working in this genre as well. From handcrafted effects channeling the Holga to iconic old film styles, these Develop Presets are compatible with Lightroom 3 and perfectly complement those from previous Kubota Lightroom Presets. Vintage Delish includes easy image adjustments for color-toned black and whites; faded antique effects; burnt and rusty colors; softening and glowing; warming tones; and deep, bold vignettes that will make your wedding and senior portraits stand out from the competition.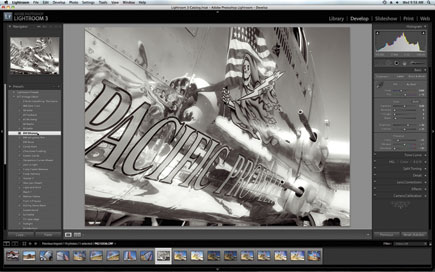 Sling'em Left, Sling'em Right
Think Tank Photo's (www.thinktankphoto.com) camera bag designers have created the first sling bags that can be carried over either shoulder.
Sling-O-Matic sling bags, such as the Sling-O-Matic 30, "automatically" switch back and forth to either shoulder and still keep your gear upright! It will handle a 70-200mm f/2.8 lens, as well as three to five more lenses, depending on size. The Sling-O-Matic's adjustable, padded shoulder strap slides along a set of rails to change which shoulder you choose to wear the bag. With a single motion, the Sling-O-Matic can be quickly switched to the opposite shoulder without losing the characteristics that make sling bags popular with photographers. The bag has a long side pocket for carrying a tripod, water bottle, or accessories; large handles on three sides; and wide zippered pockets on the front, back, and sides. A seam-sealed rain cover is also included. The Sling-O-Matic series includes three different bags—Models 10, 20, and 30—to choose from depending on the set of photo gear you need to carry.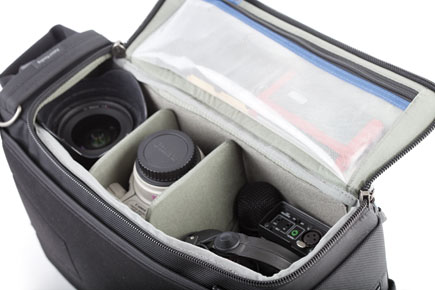 LATEST VIDEO