Adobe Photoshop Elements 10: Aimed At Amateurs, It's Got Some Pro Tools, Too
Adobe Photoshop Elements 10 caters to the entry-level crowd, but is imbued with several professional-level tools. Even when a feature is not really intended for serious photographers, there is a goldmine of functionality that could save countless hours. The app is celebrating 10 years on the market. Adobe has slowly revised the workflow, and it's getting much better.
In this version, you'll first see a start-up screen with two buttons, one for organizing photos and one for editing. It makes more sense to click the button to organize images first, especially if you're not even sure which images need editing.
When you do, one of the first prompts you'll see asks how you normally import photos. That's handy, because even the most experienced pro has to get photos off the camera somehow. You might typically load images onto a network drive, or prefer loading directly off the camera. (An option to scan images seems woefully dated these days.) Whatever option you choose, you can always go back and select a different import default. For now, it just means, when you start Elements 10, the app will automatically look for that specific source.
I tend to load images from a network drive, so I selected that option. After choosing a folder with about 350 images, Elements 10 imported them in about 10 seconds on a high-end PC. That's extremely fast—my first impression is that Elements 10 runs faster than previous versions. (Like all Adobe products, Elements works much better on a very fast computer.)
At this point, the workflow is highly logical: you'll see thumbnail shots in the main organizer window, and there are buttons on the upper right for Fix, Create, and Share.
I did not find too much use for the Fix tab. My friend took shots of a racing boat all day at a lake, and many of them are spectacular with water droplets flying through the air. I attempted some auto-leveling and some quick tonal adjustments, but wasn't too happy with the results. I found I was better off doing any image changes in the Edit area. Create is where you can generate photo prints, create photo books and collages, and even burn a DVD. In the Share tab, you can export photos to Photoshop.com and other services like Flickr. Let's first focus on the Organizer, which is a useful tool for serious photographers trying to save time.
Organizer: Fast And Powerful
In the Organizer, I started by testing one of the most time-saving features: an object search. I tend to amass a Herculean number of photos over short periods of time. In addition to my tech and photo assignments, I'm also a car reviewer, and my reviews involve shots from almost every angle. I snap the photos, dump them on a network drive, and move on. It's only when the review is due that I have to pick photos, make edits, and prepare them for publication.
The new Visual Search feature for objects was amazingly helpful. It reminded me of the facial recognition features in Apple iPhoto: you select an object in a photo like a racing boat, and then Elements finds that same object in other shots. There's a percentage indicator that shows you the likelihood of a match—with the racing boat, Elements 10 found 33 matches and marked them with a percentage of 100 percent (the image I used to select the object) down to 48 percent. Photos without the boat rated a percentage of only about 30 percent or lower.
Somewhat predictably, Elements 10 missed my favorite boat shot since it is mostly obscured by a spray of water. I half-expected Elements to identify the boat color, though. When I adjusted a selector to the left so that Elements searched more for color than shape, the spraying water shot showed up higher in the search results. For portrait photographers, this feature could help you ID people based on facial shape and color. (There's a feature that searches for faces, and you can tag them for easier grouping, but the Visual Search for objects takes that a step further because you can tweak the results even more.) Visual Search is a powerful feature, and it gets more and more powerful depending on how many photos you have in your image library.
Like I mentioned at the outset, Elements 10 is not a professional tool but has value for pros. Another example of this with Visual Search is that you can use it to find duplicate (or at least similar) images. This is not based on file names or metadata, but on the actual image qualities. In my case, Elements 10 found a series of boat shots taken with slightly different exposure settings and at different angles. You can then stack these photos in a group. (When you stack, you're telling Elements not to keep including those photos in the duplicate image results.) This search means a faster way to find similar images, make edits, and move on.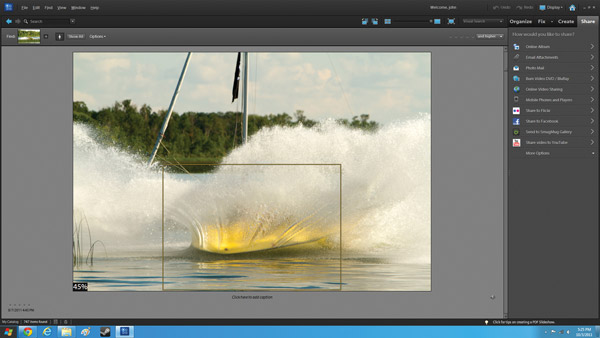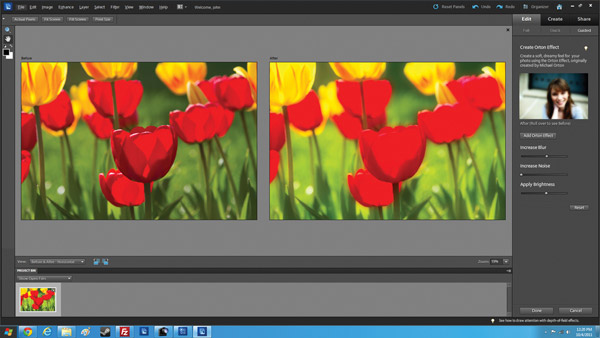 The Auto-Analyzer has interesting potential for pros as well. As you view images, make adjustments and edits, and apply your own tags and ratings, Elements works in the background applying "smart tags" to photos. In my tests, images I viewed were marked with keywords like "high quality" and "in focus" automatically. That way, I could then open a Smart Tags panel and view images with those tags. The feature is not new, but Adobe has improved the functionality.
Unfortunately, Adobe does not really explain how this works, saying it's a proprietary engine. In practice, it provided a unique (but uncontrollable) auto-tagging function for easier sorting. You can also apply a smart tag manually by dragging and dropping the tag onto any photo.
I found many other useful organizing features in Elements 10, although most of them are not new to this version. I particularly liked the quick timeline view that lets you find images based on the data stamp. The Properties window, which you can easily move around the screen, shows all the metadata for an image like ISO setting and photo author.
As I mentioned, the Fix tab in the Organizer was the least useful. I'm not sure why it's there. For beginners, the options are not that different from what you will find in the image-editing tools included with Microsoft Windows. In a bright photo of the Itasca State Park in Minnesota, which was worth keeping for the brilliant tones but had a slanted horizon, Elements 10 did not even recognize this most critical problem and some of the color corrections made the photo look worse.
Part of the issue is that, in the Organizer, there is no way to fine-tune exposure or saturation levels. You can perform automatic adjustments to resolve common problems, such as adding brightness to a dark shot and sharpening, but these are all automatic. For fine-tuning, you have to open photos in the editor. (Fortunately, you can open a batch of photos.)
Under the Create tab, there is a handy photo book creation tool—Elements 10 now includes a few more templates for these books. There's an advanced editor that lets you reposition photos on the page and add text that can curve on a path. Overall, the tool works fast and there are some well-designed templates, including those for celebrating events like graduations. Photos fill in the layouts automatically and you can tweak the position. My overall impression, though, is that the photo books here are for those just starting out with this form of reproduction. Of the organizer/editor/creator software packages out there, I feel that Apple Aperture offers the most professional-looking templates for photo books that look more print-worthy.
I was even less impressed with the Share tab. Sure, there are plenty of options: you can make a DVD out of your photos, and even make the DVD menus that someone would use when they watch the DVD. You can export to Facebook and Flickr. And, you can create an online album that shows your photos in zany animations that dance around the screen. The problem is that, for a consumer tool with aspirations to let serious photographers share their images with the world, Elements 10 should have included options that are not so consumer-focused, or at least offered a plug-in option. For example, I wanted a direct tie-in to Dropbox (my current photo storage site). However, in several tests porting my photos to Flickr, Elements 10 worked reliably and fast.
Editing Images
Other than the Organizer view, plus the related Fix, Create, and Share tabs, Elements 10 also includes a powerful editor with several new features worth exploring. The Editor is a separate app from the Organizer. Although you can perform some editing tasks in the Organizer, including rotations and color corrections, you need to click an Edit Photos button to open the Editor.
When you edit images, Elements 10 places a red banner over that image in the Organizer. Of course, if you CTRL-click on photos or select an album, you can open multiple files in the Editor. In the thumbnail view, you'll see a lock over images that are open in the Editor. In the Editor, the images appear in a handy thumbnail strip along the bottom of the screen.
Elements 10 offers a capable image editor that runs fast and reliably. Though of course it's no Photoshop, Adobe has added several enhancements to the Editor in this release besides the usual paintbrushes, tonal effects like sepia tone and black and white, and a redeye removal tool.
I will mostly skip over the new paint effects, which includes a Smart Brush feature to add a pattern behind a photo (such as wavy lines or a blur), pencil sketch effects, and various tools to adding artistic touches. Once again, these have limited value for serious photographers. They work quickly—you can start painting on an area and watch as the basic photo attributes remain. These tools give a cartoonish look to photos. In a really colorful, clear photo, there is no reason to add these effects.
The new photo effects do add value, however. I particularly liked the Orton Effect, which essentially adds a palatable blur to images and can brighten or darken the tones. A Depth of Field effect adds some blur behind an object of focus, but I wanted it to look a little more pronounced and realistic.
In the Editor, Elements 10 provides the same Create and Share tabs that you'll find in the Organizer. These functions are handy in the Editor in terms of workflow because, once you add the perfect Orton Effect to a photo, you'll be eager to export the file.
I was thrilled to discover the Visual Search features because they helped me ID the boat images quickly. I estimated that, using Elements 10 to process just the boat images (from finding them, editing, to exporting) took only about 30 minutes. Using another organizer would have taken longer because I would have had to manually mark the boat images I wanted, since they were not all taken contiguously.
That speed-up in workflow is helpful, but I'm not ready to recommend Elements 10 to every photographer.
It works well for those with a large library of photos and need to find images using the Visual Search tools and the auto-tagging features. Photo effects like the new Orton Effect work well, so those who want to experiment with effects will find pro-level capabilities.
There are better tools for organizing images, though, and we all know Photoshop itself is a better image editor, but at 10 times the price. Elements 10 has a certain consumer-level appeal. The app runs fast and never crashed during my testing. If the features I've covered sound appealing, the app is well worth the $99. In fact, many pros will find that the Visual Search features are easily worth the cost. And some of the new effects work just as well here as they do in competing pro products.
For more information, contact Adobe Systems Inc. at: www.adobe.com.
FEATURED VIDEO