Accessories; Studio & Home Helpers

Backdrop Outlet displayed dozens of backgrounds and props for studio applications. Among the newer items were crushed flower petal roll mats measuring 36x36", suitable for infants and younger children. They are available in a variety of colors and designs and even have matching flowers to use to complement the mat. New banister sets include a column and a short fence-like portion that would be useful for seniors and portraits of older individuals.
New Stratos shoe-mount flash brackets from the Brandess-Kalt-Aetna Group are Models 835 and 1035, for use with 35mm cameras. Both are machined from sturdy black anodized aircraft aluminum, have a quick-release camera mount, a non-slip contoured grip, and anti-twist rubber base pads. The flash can be adjusted side to side to be centered over the camera lens and raised up to 10" above the camera. The MSRP starts at $66. A very compact "U"-shaped folding bracket is intended for use with small digital cameras without a hot shoe and a slave flash. They are available in several colors and have an MSRP of $25.

The Cameron Digital Photo Box from Booth Photographic is available as a box only or as a kit that includes spiral fluorescent lamp lights, stands, and cords. The translucent-sided box measures 16" square and is easy to set up most anywhere or fold for storage. The front has a flap that opens for positioning the camera outside the box. Four colored backgrounds are included as is an Internet-based video tutorial for using the box. The MSRP is $68 for the box and $149 for the kit.

Custom Brackets' Digital PRO and Digital PRO-SV brackets now offer an improved 90Þ arc rotation system that has special roller bearings for easier and smoother operation. The upright standard that holds the shoe-mount flash is extendable so the flash can be positioned farther from the camera. A comfortable foam carrying grip and very handy folding legs allow the entire device with camera attached to be set down without falling over. The MSRP is $280. They also have a new camera quick-release system that is compatible with their brackets. The CB Mini is a camera flash platform intended for use with digital cameras with or without add-on battery packs. The AP-1 accessory plate attaches to the bracket so radio slaves can be held in a variety of positions.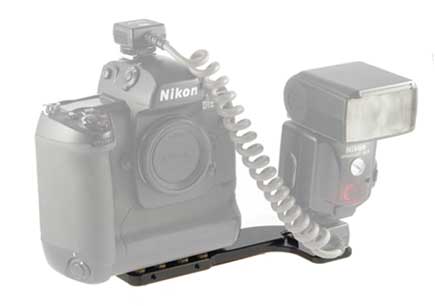 The gorillapod from Joby is a really handy device that lets you securely place a small digital or film camera most anywhere you want. Unlike most conventional tabletop tripods, this versatile unit has legs made of flexible, bendable plastic balls that are encircled with rubber-like rings that provide secure gripping on most any surface. Each leg joint bends and rotates 360Þ for a practically unlimited variety of positions. There is a quick-release shoe that attaches to the camera's tripod socket and the entire unit weighs a mere 1.6 oz and measures 5.9x1.2x1.2", so it's easy to carry.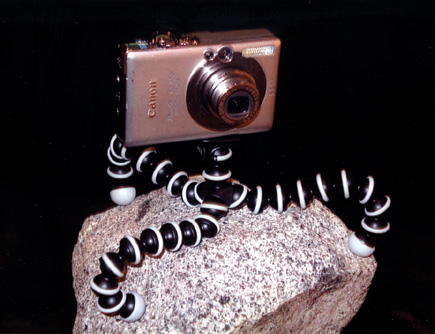 Hoodman now offers the H-RAV Universal Right Angle Viewfinder that's said to fit all digital SLR cameras. It provides an easy way to check composition on close-to-the-ground viewpoint photos. It includes diopter adjustment and has both 1x and 2x magnification capability to enlarge the center of the image, plus offers 360Þ rotation. It comes with a carrying case at an MSRP of $130.

HP Marketing Corp. has a new Kaiser translucent top and side shooting table box that measures 15" square opened but folds nearly flat (1x17x17") for carrying or storing in a supplied case at an MSRP of $75. There is a reversible fabric sweep that's blue on one side and gray on the other that attaches with hook-and-loop material.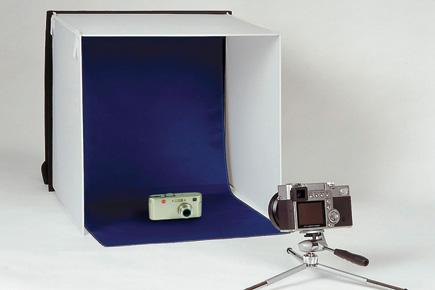 If you use a hot shoe flash with a tilting head you know it's sometimes not possible to bounce the flash off the ceiling because the ceiling is too far away, too dark, or colored. That's when the new Hughes Soft Light Reflector comes in handy. It is made of soft foldable foam so it can be rolled up for carrying in your pocket or camera bag, then quickly attached to the flash head with provided strips of touch fasteners that stay on the flash. Besides being easy to carry, the reflector can be easily adjusted for a shallower bounce angle. It's usable outdoors or inside and costs just $30.
Jerry Hughes also offers two quite complete small instructional booklets: Take Better Photos in 30 Minutes and Digital Photography Made Easy & Fun. Both contain a series of how-not-to and how-to photos of the same subject, which makes it easier to learn what to do (and not to do). There is a lot of very useful information within the 40 pages of these two small books. Both are also offered online at: www.takegreatphotos.com.

Memory Maker offers a broad line of photo-themed jewelry items, including many styles of charm bracelets, earrings, necklaces, pins, and key chains. New are necklaces with an envelope-shaped pendant that holds a photo on the back, holiday-themed multiple loop bracelets, and Picture Pinz small holiday décor pins that can also be hung on a holiday tree.

MonsterPod is the quaint name for a unique supporting device for small cameras. It's said to be the first "Viscoelastic Morphing Polymer Tripod" ever developed. Measuring less than 2" tall and 4" wide, it has a standard 1/4-20 tripod screw and the malleable base can be molded (morphed) to match nearly any shape to provide a temporary mount on nearly any surface until you peel it off. Offered in seven colors, it has an MSRP of $30.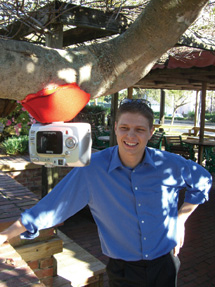 OmegaSatter now distributes the broad Cokin filter line, which includes the new Z-PRO Series of 4" wide filters and holders for use with digital, film, and video/broadcast cameras.
As usual, OP/TECH USA had several new items among their diverse group of helpful small accessories for protecting and carrying equipment of all types. Snappeez is the name of a new line of soft neoprene pouches in three sizes and three different colors. They all have sewn-in belt loops, are reinforced for protection, and have a magnetic closure for both security and easy release. They are suitable for small cameras and cell phones. For your trusty tripod they now have a Tripod Strap that will attach to the neck and all legs of the tripod. It quickly disconnects when you want to set up the tripod and has a soft padded weight reduction system for more comfortable carrying. System Connectors are short straps that are placed between the regular camera or binocular neck strap and the item itself to provide a quick disconnect system. You can also attach the two ends of the connectors together to form a short carrying strap. A brand-new mid-size soft pouch for digital SLR cameras has three attachment methods: belt loop, expandable ring over the camera lens, or via the tripod socket.

OSN showed several novel small camera support systems. The tiny Digital Camera Pod easily attaches to filled bottles with tops measuring from 28.5-30.5mm in diameter (most 20 oz bottles) thereby turning the bottle into a multipurpose camera support system. It can also be attached to a car window or similar flat surface. Most anything can be turned into a ball-socket camera support. The MSRP is $10. A slightly larger version fits onto larger tops found on sports bottles. Another small tabletop tripod, the OSN OS-60, looks more conventional, but is different since the legs quickly spread at the touch of a button and it extends to a maximum working height of 5.5". It has non-slip rubber feet, an adjustable ball-socket head, and a small, removable LED light attached to the bottom of the center column. The MSRP is $17.

Pelican introduced a surprisingly useful small LED camera bag light, the VB3, that can be handheld or clipped onto the bill of a cap or neck or bag strap to provide a bright, hands-off light when you must operate camera controls or search in a bag in dark situations. Just pull it open to switch on and the bright twin LEDs swing through a 180Þ arc for positioning exactly where needed. The MSRP is $20 for this device, which is about half the size of a good cigar.
Pictronic is the name of a brand-new illuminated picture frame that makes the image really stand out with soft, even backlighting behind the print inside. It's easy to open the back to place any standard 5x7 print (without backprinting) inside. The low-voltage AC power is inexpensive to leave on continuously, and there is a variable brightness control. The round base will hold the frame for vertical or horizontal images and the frame is offered in white, silver, and black versions at an MSRP of $40.

Protect your camera from the rain or sun glare with the Popabrella, a small umbrella that easily attaches to the tripod socket of any camera. It can be adjusted up or down or side to side and can also be used with the camera on a tripod. It has an MSRP of $20.