7 Great Mother's Day & Father's Day Photo Gifts Under $15
Mom's Day is Sunday the 13th and Dad's is next month. In this era of extended multilayer family structures, gifting all of the parental figures in your life could run into some serious cabbage, so here's a rundown on some useful and thoughtful items that won't drain the ATM. And if Mother's Day slipped your mind—there's still time to put the first gift suggestion into action.
1. Canon Creative Park Calendar (Free)
Here's an address that should be in everyone's Favorites list. Canon has created—and continually refreshes—a compendium of activities that can be produced using Canon PIXMA color printers. The options include templates for cards, complete instructions and format guides for paper crafts, scrapbook material, calendar layouts and much, much more. The website is free to all, and of course most can be made using a different brand of printer.
There's also a section of Premium Content that's available only to users of genuine Canon inks. There you'll find works of well known artists and activities using popular characters as well as materials that can be combined with your own great photos.
They even rate projects by difficulty and offer instructions in 12 languages. This is a class act in every respect and all I can say to other camera and printer manufacturers is "where's your resource website?"
2. Camera Pillow Case ($3.99)
A Leica M8 for less than four bucks? That's right, but it's made of linen. Please note that this is a pillow case, not a complete pillow. If you're not sure whether mom/dad will dig it, or if you just want them to see how it will look when covering a cushion, fill it with Styrofoam packing peanuts before presenting. You can probably find it elsewhere online, but this one is offered by GearBest.
3. Metal Photo Keychain ($8.99)
I like everything Mpix offers, and I judge them to be one of the best online photo printers anywhere. They're certainly one of the biggest. Their Metal Photo Keychain makes an awesome gift for mom, dad or grad. In fact, now that my teenager is starting to drive, I think I'll make one for her car keys—one that shows a photo of me shaking my finger and looking fatherly.
While you're on Mpix's website, check out the other cool stuff, including wall art, photo books, cards and—of course—high quality prints. The thing that has always impressed me about Mpix is that they pack your purchase as well as you would pack it yourself. Nice.
4. UNDFIND FishBomb Lens Filter and Accessory Case ($15)
I found the FishBomb online at Wal-Mart, Amazon and B&H and I immediately thought WTF? Is it a solution in search of a problem? In a day and age when folks—women and men alike—stuff their $500 cellphone in their jeans pocket, why on earth would they hang a little pouch on their belt to hold a memory card, battery to whatever? But then I found this one in camouflage and recognized its potential for coolness.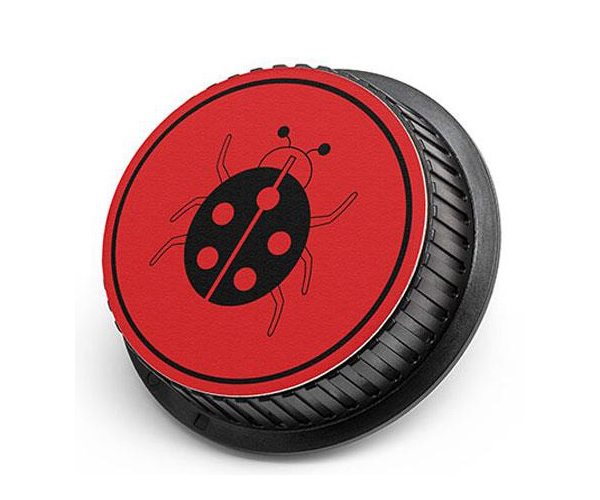 5. LenzBuddy Rear Lens Cap for Canon, with Photo of a Ladybug ($5.95)
Ladybugs have long been associated with good fortune. Having one land on your shoulder is certainly luckier than having a wasp or yellow jacket drop by.
This is an actual rear cap for Canon lenses with a graphic of a Coccinellidae beetle on a red background. If ladybugs don't float your boat, LenzBuddies are available with bumble bees, skulls or the focal length of popular Canon L-Series zoom lenses.
6. Zebra Wing Stylus C1 Ballpoint Pen ($6.50)
Write this down: for great deals and an incredible selection of outstanding writing instruments, mostly from Japan but from all over the world, the name you need to know is JetPens. I've been buying pens, pencils, ink and erasers from them for years.
One of the most useful pens you'll find there is the Zebra Wing Stylus C1 ballpoint pen. It writes great and the stylus tip is very handy when using a phone or other touchscreen device. Makes a thoughtful gift.
7. Microfiber Cloth, pack of 8 ($9.99)
At last count there was something like eleven bazillion types of microfiber fabric squares on the market. Thick, thin, small, large—you name it. I even have one with a map of Las Vegas on it. But if you are looking for a great deal on large (as in 15 x 16 inches large, big enough to cover a pizza) thick multipurpose cloth, here's the ticket. These are available from Amazon in a package of eight (four colors) for $10.
I use them to wipe down cameras and lenses, naturally, but also to clean my phone, the screen on my iPad, the touchscreen information display in my Subaru and all of my computer monitors. That means I use them in my office, car and all over the house. They are about the thickness of the facecloth you find at a Holiday Inn motel and neatly sewn along the edges so they don't unravel. The brand name is Sundix and they have only one single negative rating out of more than 5,000 reviews on Amazon, if that means anything to you.
—Jon Sienkiewicz
FEATURED VIDEO