5 New Photoflex OctoDome ShoeMount Kits
Photoflex® Inc. of Watsonville, CA. announces the release of five new OctoDome® Extra Small Kits for ShoeMount Flash. Each of the five kits include an 18 inch extra small OctoDome® nxt, adjustable ShoeMount hardware, basic OctoConnector, and a HeavyDuty swivel for connecting the kit to a camera bracket or light stand. The aforementioned items describe the Basic Kit, designed for photographers that already own a ShoeMount flash and radio trigger.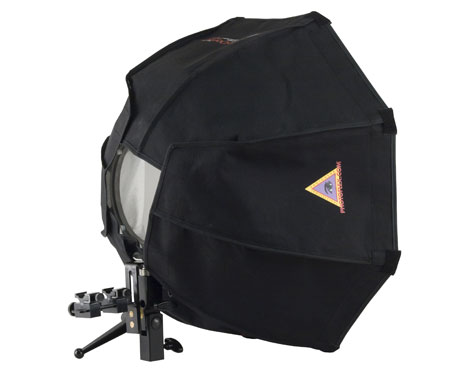 The additional four kits add components to the Basic Kit to satisfy a wide range of needs. The OctoDome® nxt: extra small FlashFire™ Kit adds a radio trigger set. The OctoDome® nxt extra small FlashFire™ & StarFire™ Kit includes a ShoeMount flash and wireless trigger set. The Studio Kit adds a LiteStand. The Location Kit adds a LiteStand and a LiteReach® kit for the active event photographer.
Using the OctoDome® extra small instead of a direct flash produces a professional result by dramatically softening highlights and shadows. OctoDome® nxt extra small is the smallest SoftBox that Photoflex® makes, but it's also one of the most versatile because it has a removable baffle and front face, accepts an optional Grid and is made of heat resistant nxt fabric for use with constant light sources.
The OctoDome® delivers many important improvements over direct on-camera flash:
* A pleasing round highlight on the subject's eyes
* Smooth skin tones without hot spots or specular reflections
* Soft edged shadows for gentle highlight gradations
* Even output for natural looking flash-fill
* Shadows appearing behind the subject are much softer than with a direct flash
* No warming of the strobe output as is the case when using plastic diffusers
Features and benefits:
* Circular Design - provides diffused round highlights in subject's eyes
* Internal Baffle - eliminates hot spots for soft and even output
* Narrow Profile – allows photographers to move freely in small or crowded rooms
* Dramatic improvement over direct flash or small diffuser products
* Baffle and front panel material does not alter the color of the strobe
* Can be used with continuous light sources
* Carry Bag - included for easy storage and transport
Website: www.photoflex.com

LATEST VIDEO