5 Great Stocking Stuffer Gifts Under $30 for Photographers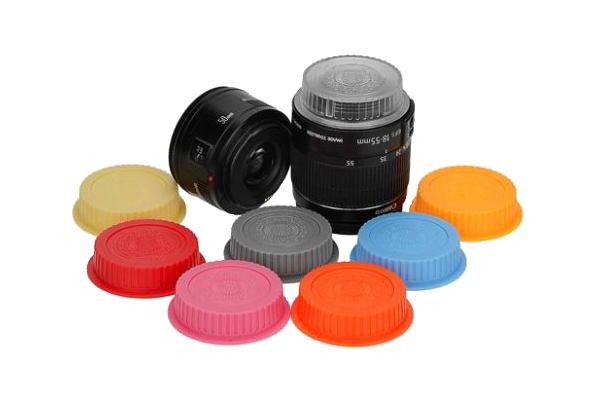 If you're stumped picking out a holiday gift for the photographers in your life, you've come to the right place. They say one should only give gifts that they'd like to have themselves—and that's a good compass. So buy two and keep one, no one will know. And your budget won't explode either, because these gifts cost less than 30 bucks each.
#1 Fotodiox Designer Rear Lens & Body Cap Set
Grabbing a specific lens from the assortment in your gadget bag can be hard at times, especially if the lenses look alike. I'm thinking right now about the 20mm f/2.8, 24mm f/2.8 and 35mm f/2.8 primes that Tamron recently introduced in Sony full-frame mirrorless mount—each is about 2.5 inches tall and they all look alike. And many normal lenses look like wideangles. Colorful rear lens caps from Fotodiox solve the problem. They are available in nine colors (including a spooky transparent) and fit lenses for Canon and Nikon DSLR camera. Also available in a set with a matching body cap as shown here.
Who's it for? Any Canon or Nikon DSLR user who owns more than one lens.
Why I like it: They make it much easier to find the right lens fast and they look so much better than the basic black caps that manufacturers provide.
Price: $7.95 for body and rear cap set for Canon, Nikon
Buy it on Amazon here.
#2 SanDisk Extreme PRO SDXC Card 64GB
SanDisk's Extreme PRO SDXC card meets UHS-I, C10, U3, V30 and 4K UHD criteria and provides shot speeds up to 90MB/sec and transfer speeds up to 170MB/sec when used in a suitably fast device. They are built for and tested in harsh conditions (moisture, shock, X-ray, et al) and are covered by a lifetime limited USA warranty. Bonus: FREE download of Rescue PRO Deluxe 2 data recovery software which helps you recover accidentally deleted images and has saved my bacon many times. The card mentioned here is 64GB but other capacities are available.
Who's it for? Especially useful for photographers who shoot storage-glutton video files but equally useful for anyone whose camera uses SDXC (which is just about everyone these days).
Why I like it: Great price for a large capacity and fast enough for my needs. The free download of Rescue PRO is very helpful—and worth more than the cost of the card. And of course, SanDisk is a name you know you can trust.
Price: $19
Buy it on Amazon here.
#3 Joby GripTight Smartphone/Action Camera Flexible Tripod Stand Kit
No matter how you use your smartphone—video, FaceTime, selfies, or even just watching YouTube—the Joby tripod stand is a great accessory. It holds your phone (or GoPro) stationary and can attach to objects like bicycle handlebars or can sit even at awkward angles on any flat surface. Ideal for GoPro-genre action video cameras. Fits most smartphones, with or without a case, between 56 and 91mm thick. Cold shoe adapter allows you to attach accessories such as microphone or LED light.
Who's it for? I use one to hold a Litra or Lume Cube LED lamp when shooting certain macro projects, but most people will use it to support their smartphone or GoPro. If you have a friend whose videos jump around more than I did that time a yellow jacket flew up my pants leg, they need this.
Why I like it: Versatile—fits many different smartphones. Flexible—literally, the legs flex to attach to various objects. Or it can sit up like a traditional tabletop tripod.
Price: $29
Buy it on Amazon here.
#4 Peak Design Cuff Camera Wrist Strap
From legendary bag and strap maker Peak Design, a convenient strap that slips over your wrist and locks for secure camera transport, but can easily be removed entirely from the camera in less than half of a minute. Uses Peak Design's unique camera Anchor Link system which can support 200 pounds (90kg) each. Available in gray or black and covered by a limited lifetime USA warranty.
Who's it for? Street shooters love it, walk-around photographers swear by it. Any and all photographers appreciate it. Great universal photo gift.
Why I like it: Great way to introduce a friend to Peak Design's fabulous Anchor Link system while at the same time giving them an excellent alternative to the traditional camera neck strap. I frequently must photograph cameras, particularly the ones I am reviewing, and that means removing the strap. The camera manufacturers' straps can be a pain to remove, so PD's system is a real timesaver. Looks awesome, too.
Price: $25
Buy it on Amazon here.
#5 Behind the Camera: The Most Legendary Photographers of Our Time
By Laura Magni (author), Marco Santini (editor). This book displays the works of 18 iconic photographers and explores their most powerful images. All of your favorites from Robert Capa to Annie Leibovitz, with standouts like Cecil Beaton, Henri Cartier-Bresson, Dorothea Lange and Margaret Bourke-White, are included. If you know these names, you'll love this book. If you don't know these names, you need this book.
Who's it for? Anyone who appreciates outstanding, world-class photography and others—like teachers, teenagers and friends—who will benefit from seeing some of the world's finest images. Be a hero and buy a copy for your local lending library or university library. Who knows? Maybe that charitable action will motivate some kid to become a photography legend.
Why I like it: Images are expertly selected and beautifully displayed. Great to have so much terrific stuff all in one place—and at an affordable price.
Price: $22.29
Buy it on Amazon here.
—Jon Sienkiewicz

LATEST VIDEO