The 30th Tokyo Used Camera Show; A Treasure Trove Of Collectibles For Younger Generation
At the 30th Used Camera Show 2008, held at the Matsuya department store, Ginza, Tokyo, sponsored by the Imported Camera Society (ICS), the traffic of visitors increased by about 10 percent over the last year, and one exhibitor said their sales grew some 15 percent compared to 2007. The increase of younger visitors, both men and women, was welcomed by most of the exhibitors because they felt the used camera trade needed replenishment of fresh blood to compensate for the passing of old clientele. This year the show featured the Barnack-type Leica, which may have been, in retrospect, a slight mistake because younger customers did not like the Barnack Leica as much as the sponsor expected. They felt the film loading was too difficult, although they all were fond of the manual adjustment of shutter speed and aperture. This control was considered "meaningful labor, providing the fun of learning and mastering of technical expertise"; according to one young male visitor who commented about the film loading of the Barnack Leica as being "unnecessarily and ridiculously complicated, giving no fun at all."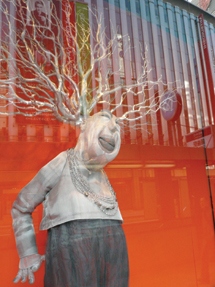 A show window of Ginza.
All Photos © 2008, S. "Fritz" Takeda, All Rights Reserved
But why such an increase of younger clients, especially women? One of the important reasons is that there are now in Japan so many photographic colleges, with more than 50 percent of the students being female. These students listen to teachers who are elderly enough to appreciate and laud the beauty of analog/manual cameras, which have been reincarnated as something novel and adventurous, as opposed to digital cameras, with which they are all too familiar.

The increase of young customers has its shortcomings, however. For example, Tessar, a sacrosanct name for old-timers, did not spark the younger generation's interest. A Contessa with an f/2.8 Tessar fetched $500; a Retina IIIc with an f/2.0 Xenon went for $700. Buyers compared lens speed and not so much "legacy" name.

For young people, format is important, and the standard rectangular image is seen as somewhat stereotypical. The square format, however, is more uncommon for them. Buyers responded less to an expensive Hasselblad (offered at $1500 for a 500C/M with an 80mm f/2.8 Planar and A12 magazine) than to the twin lens Rolleicord V (with Xenotar 75mm f/3.5 at $450), which was considered a good buy. Simply put, a TLR looks quite different than an SLR, which makes for wider appeal for this group. One surprising gem was the Gray Baby Rollei 4x4 with 60mm f/3.5 Tessar or the Xenar, at $450, considered "cute and clever" for young girls. Clearly, the show indicated that the "used" analog camera business, especially when cameras are unique, has been and will be further reinvigorated by younger generation buyers who want user/collectibles that differ from the standard SLR, and especially digital camera models.
Rolleiflexes are still popular.
The Distaff View
A female visitor to the 30th Used Camera Show in Tokyo said, "Digital cameras are too easy. I prefer setting the shutter speed and the aperture myself rather than leaving it to the camera. What I cannot tolerate is that the digital camera forces you to see in the monitor what pictures you will get. That spoils the joy of expectation. When I bake a pie I don't want to know the taste of it until I open the oven." As to the dislike of digital, she was not an exception among show visitors. There were many women who came to the show merely because they thought analog cameras were "superior" to digital cameras in giving them the joy of photographing.

LATEST VIDEO