3 Photo Shoulder Bags From Domke That You Should Know About
The Domke bag. Affordable, functional and as durable as a 30-pound slab of stainless steel. Right now Domke is offering the popular F-2 (original) model and the F-5XB (my personal favorite) in a Limited Edition camouflage pattern that looks sensational and honors our troops—emotionally and financially.
Today we look at two well-liked Domke bags in their attractive camo guise and a third bag, the Domke F-803, which is not available in camouflage but deserves your attention nonetheless. By now I'm certain you've heard the story of how Philadelphia Enquirer photographer Jim Domke conceived and created the iconic Domke bag. If not, click here and take a look at the piece we ran a while back: The Bag Man Looks at Domke as they Approach One Million Bags Sold.
In the 40 or so years that have passed since the first Domke bag left the sewing machine, camera bag styles have come and gone but the venerable Domke F-2 has remained the favorite of many professionals and zealous amateurs. I once heard a photographer say that he'd been shooting weddings for so many years that he'd nearly worn out his Domke F-2.
Often copied but never truly duplicated, Domke bags, including the three models in this roundup, offer minimal padding but maximum comfort. They collapse (to a certain extent) when empty, and conform to the curve of your body. They fit like a well-worn pair of Levis. Traditionally made of cotton canvas, some models are offered in nylon cloth also.
Before I forget, The Tiffen Company (of filter fame and distributor of Domke products) is donating a percentage of sales from each camouflage bag to Veteran-focused charities.
Domke Camouflage F-2
The camouflage Domke F-2 photo shoulder bag is made of water-resistant nylon fabric in a unique camouflage design (i.e., every sample is slightly different). I can easily fit a DSLR with lens attached plus four or more lenses in the main compartment, and large items like flash units or a Gossen Lunapro meter in the two pockets in front, or in the pockets on either end. In truth it can hold more than you can carry. The bottom is padded and really quite protective, and all straps are secured by strong metal hardware. The shoulder strap, which runs around the bottom of the bag for extra security, has high-friction strips sewn in—it stays on your shoulder, and that's a high priority for me. There's also a hand strap which is more useful than you'd think—particularly when you're lifting a full bag from the car floor. And by the way, the camouflage nylon F-2 weighs 23% less (empty) than its cotton canvas cousin (2.4 vs. 3.1 pounds) but is every bit as durable as far as I can tell.
Domke Camouflage F-2 Key Features
Made in the USA
Unique camouflage nylon
Fits one or two DSLRs or mirrorless and four to six lenses
Six compartments, six pockets
Removable padded bottom
Gripper shoulder strap
Removable hand strap
Heavy duty hardware
Exterior Dimensions: 17 x 6.7 x 9 inches
Metric: 43.2 x 17.1 x 22.9 cm
Weight: 2.4 pounds (1.1 kg)
Price: $179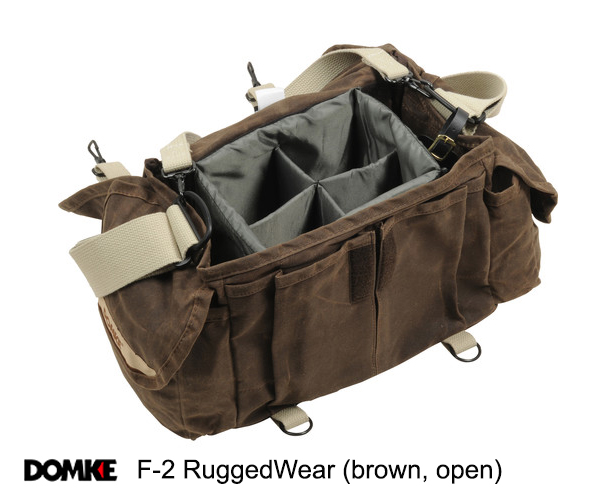 Domke Camouflage F-5XB
The camouflage Domke F-5XB shoulder bag can be worn on the belt like a waist pack, but I've never seen anyone do it; it's the perfect size for comfortable shoulder carry. I can fit a mirrorless with lens and two or three more lenses, plus a few small items. The main compartment is sealed with a zipper and covered by a Velcro-secured flap when not zipped. For my money it's one of the most useful bag designs available for everyday carry, and home to my Fujifilm X-Pro2. It's just the right size to hang from the headrest on the passenger side of my Subaru. And the shoulder strap—like all Domke straps—is sticky with sewn-in friction strips, so it won't slip off your shoulder.
Domke Camouflage F-5XB Key Features
Made in the USA
Unique camouflage nylon
Holds small DSLR or mirrorless and one or two lenses
Zippered main compartment with padded dividers
Velcro-secured top/front flap allows easy access
Gripper shoulder strap
Belt loop for use as hip bag
YKK zippers
Exterior Dimensions: 10.5 x 4.5 x 6.5 inches
Metric: 26.7 x 11.5 x 16.5 cm
Weight: 1.1 pounds (499 g)
Price: $92
Domke F-803 Camera Satchel / Shoulder Bag
The Domke F-803 Camera Satchel is reminiscent of the legendary Danish Book Bag which was all the rage a few decades back. A classic design, it's a bit like an oversized version of the F-5XB except there are two large flap pockets in the front, and the top flap, which is secured by a single metal snap, is host to two zippered pockets. There's also a slip-in pocket on the back for papers or very thin things. The canvas shoulder strap runs around the entire bag for security and of course it's grippy. Available in a few different colors (see below); Sand is my favorite because it's the classic khaki canvas look that Domke is known for. Not available in camo. When I'm headed out with one camera and several lenses, this is my bag of choice. The camera hangs from my neck and the bag safely stores lenses up to about 9-inches long.
Domke F-803 Camera Satchel / Shoulder Bag Key Features
Made in the USA
Waterproof cotton canvas
Holds DSLR or mirrorless and two to four lenses
Three interior compartments
Two large expandable cargo pockets
Padded side walls and bottom
Gripper shoulder strap
Reinforced handle on top
YKK zippers
Exterior Dimensions: 4.6 x 9.7 x 13.5 inches
Metric: 11.7 x 24.6 x 34.3 cm
Weight: 2.2 pounds (1 kg)
Colors: Sand, Military Green, Black, RuggedWear Brown, Olive Drab
Price: $115-$150 depending on color and exterior material. Sand is $129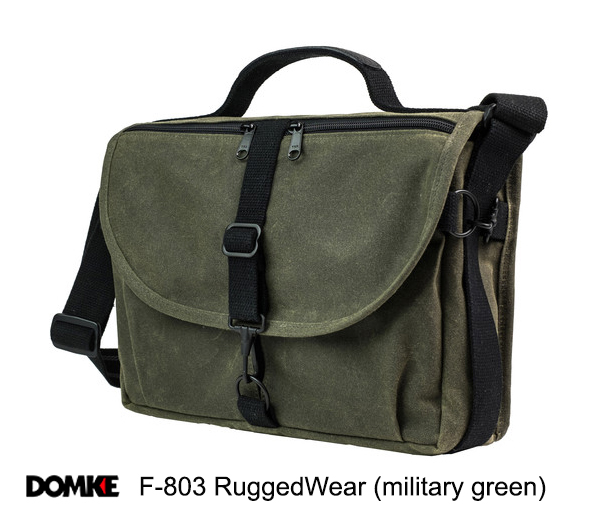 Words to the wise: I've seen numerous Domke bags for sale at online auction sites for sums substantially higher than their retail cost, mainly from foreign sellers. Don't know why and don't care to speculate, but caution is advised. Also, if you decide to buy a used Domke bag online, make sure it comes from a smoke-free home. Cotton canvas can retain the lingering stench of cigarette smoke and, while most can be machine washed, it can present a stinky surprise.
—Jon Sienkiewicz
FEATURED VIDEO