10 Common Mistakes to Avoid When Purchasing Your Next Digital Camera (VIDEO)
Purchasing a new camera is a daunting task, whether you're an amateur or pro, because of the myriad of options to consider. Do you want to stick with the brand you already own, or make a switch? How about the choice between a full-frame or crop-sensor camera? And there's also the decision between a DSLR and a more compact mirrorless model.
The above questions are just of few of those you should consider, and the eight-minute video below from photo instructor John Greengo of CreativeLive will help you avoid 10 common mistakes while weighing the various options. This episode is actually one chapter in a comprehensive Camera Buyer's Guide from CreativeLive that covers a wide range of topics on different types of cameras, features, accessories, and more.
The sound seems to default to "off" with this video, so make sure you turn it back on by clicking the audio icon in the lower right corner of the video screen.
The 10 purchasing mistakes explored by Greengo in this helpful video all relate to one essential point: Buy the camera that's right for you! It's easy to get seduced by "special deals" that might save you a few bucks, or conversely, purchasing the "best camera money can buy" if you have the means to do so.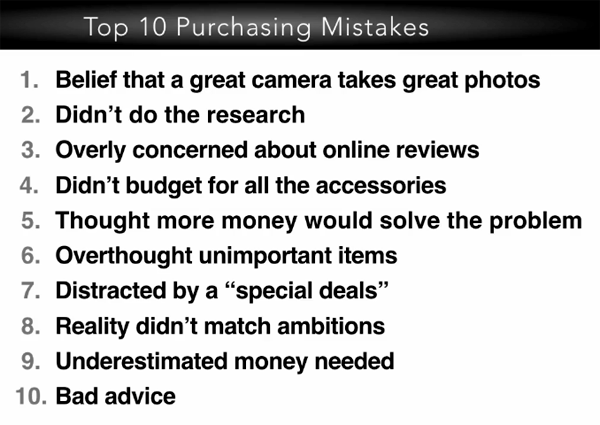 Greengo discusses the importance of doing your research, budgeting for necessary accessories, and other key considerations. He also warns about getting advice from "the best photographer you know," because that person's needs may be far more advanced than yours.
We found this video on the Facebook page of Shutterbug contributor Chase Jarvis, where there's always interesting things to see. After watching this clip, take a look at the full Camera Buyer's Guide from CreativeLive. You may also want to check out an earlier story from Jarivs, with images and his first impression of the new iPhone X.
FEATURED VIDEO