Memories In Red: A Family's History
There are stories we tell to explain ourselves, to clarify who we are, and to account for why we are who we are. And no matter what the apparent subject of these stories, what they are always really about is the past. "The past is never dead," William Faulkner said. "It's not even past."
Yelena Zhavoronkova's personal project, Memories in Red, tells stories rich with detail and emotion about her family. Born in Leningrad (now St. Petersburg), she's lived in the United States since 1990 and has worked as a graphic designer for over 20 years. She's currently studying photography at City College of San Francisco.
Memories in Red, she writes, is "a story about a little girl" and a "family like many others" in the Soviet Union of the late 1950s and early 1960s. Everything looks good from the outside, she says, but underneath is hidden the pain and confusion of constant lies and unanswered questions.
Yelena made the 22 images that comprise the Memories series over a period of a year and a half at a tabletop setup in the garage of her home. "The high ceiling made it the best location for moving the lights and the gobos and the reflectors," she says. She used a Canon EOS 5D Mark II and an EF 24-70mm f/2.8L USM lens. The lighting, from first Dynalite, then Elinchrom strobe units, was a key factor in capturing the details of the images, and, more important, setting and maintaining the mood of the entire project.
"The important thing," Yelena says, "was to control the light to create the dramatic look: what would be shadowed, what would be highlighted. I didn't want natural light settings. I wanted to highlight pieces, portions of the settings, carefully choosing where I wanted to direct the viewer's eye and attention, and then telling the story of why I was directing them that way." It was a long process that began with sketches, then moved on to a lot of trials and takes.
She created the images, and wrote the words that accompany them, for her daughter and niece and nephew—"not for now, but for later." Then, when the project was completed, a wonderful thing happened: the images proved to have a reach and a resonance beyond her family. "People, when they look at my images, they start talking about their own childhoods," she says. "It's a very rewarding process, showing my images to people from everywhere."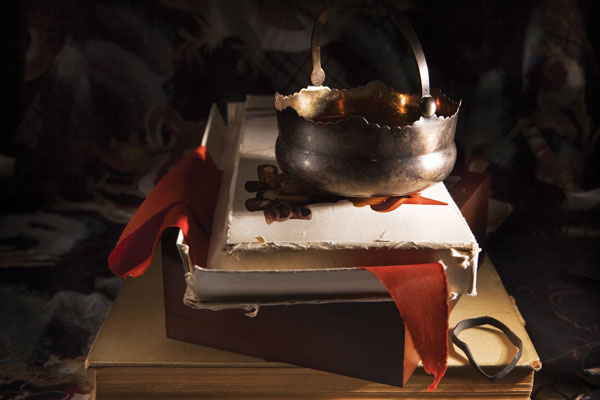 All the photos in the Memories in Red series, and Yelena's comments, are at www.photo.yzdesign.com.