Memory & Storage: Faster & Higher Capacity Every Year
The most recent speed gains have been in SD format cards, making us wonder about the larger CF card. But that concern has been to an extent dispelled by some of the recent developments in this very fast-changing field. One of the newest developments unveiled at the show was a card that sits between those two sizes, the XQD card. The first camera to accept the new memory card is the Nikon D4, although the D4 also features a CF slot.
XQD has a smaller form factor than CF, so they're not interchangeable. Sony, the company that introduced the world's first XQD card, notes that you can record up to 100 Raw image frames from continuous shooting mode using the card and obtain 125MB/sec read/write speed when using a PCIe port; new XQD card readers are available as well. The casing around the card is "robust," with contact pins inside the casing itself, which Nikon says helps eliminate problems in the field.
Another development worthy of note is that USB 3.0 (also known as SuperSpeed USB) is finally gaining momentum, like a snowball rolling down a gentle slope, with an increasing number of supported products appearing at the show. Aside from those highlights, here are some of the products and companies that caught our eye.
Hitachi Global Storage Technologies (Hitachi GST) announced the G-Technology G-Drive Mobile (FireWire 800 and USB 2.0) and G-Drive Mobile USB (USB 2.0 only), respectively $199 and $179 in 1TB capacities—stylishly thin portable drives for the Mac laptop user. They employ the new Hitachi 5400 RPM Travelstar 5K1000 hard drives. Both drives are Apple Time Machine ready and bus powered for on-the-go backups. Also new are the G-RAID and G-Drive solutions, formatted for Mac OS X out of the box and Time Machine ready (convertible to Windows usage). Boasting an all-aluminum enclosure, the drives provide 3Gbit eSATA, FireWire 800 (FireWire 400 via included cable), and USB 2.0 ports. G-RAID will have a combined capacity of up to 8TB, costing $899. G-Drive begins at $199 for 1TB, to $449 for 4TB.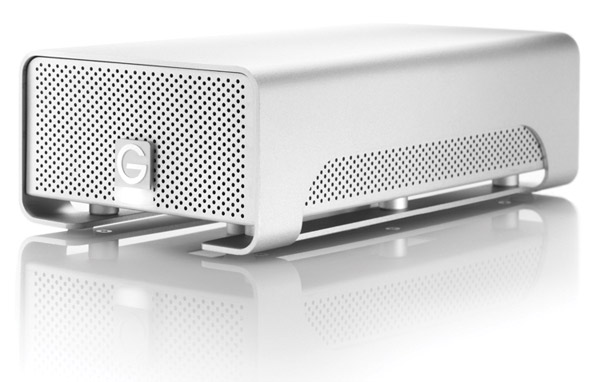 International Supplies released two new Nexto DI portable storage solutions. The NVS 1501 ($1200) was designed for CF and SD (including SDHC/SDXC) cards, enabling you to back up these cards while on location OTG (On-The-Go). But you also have direct-to-camera USB connectivity (eSATA and FireWire 800 ports also provided). It features a 2.4" color LCD that allows you to preview and verify that data was backed up properly, along with anti-shock protection, and comes with 500GB of storage (SSD—solid state—option); HDD upgradable to 2TB. It is powered by a rechargeable lithium-ion battery (up to two-hour working time). The ND 2730 is a more economical portable storage solution starting at $450. It backs up from CF, SD, SDXC, and SDHC, with auto verification, and you can preview the images on a 1.44" color TFT LCD, up to two hours on a full charge. It provides USB 2.0 and FireWire 800 connectivity, and comes in 500GB and 750GB capacities (upgradable to 2TB); SSD model also available.
Lexar introduced several new memory cards and flash drives, notable among them, the Lexar Professional 1000x CompactFlash (CF) card ($169/16GB, $299/32GB, $529/64GB, $899/128GB). As with practically all new cards, it's aimed at ensuring high data-rate HD video capture streams as well as quickly freeing up the memory buffer during high-rate still capture. The card includes a free copy of Image Rescue software for data recovery. Even more CF news: a 256GB Lexar Professional 400x CF card; Image Rescue software included (no price yet).
Also new and noteworthy, the Lexar Professional 600x and 400x Secure Digital High Capacity (SDHC) and Secure Digital Extended Capacity (SDXC) Ultra High Speed I (UHS-I) memory cards. The 600x cards are offered in 16GB, 32GB, and 64GB capacities, whereas the 400x cards start at 8GB on up to 128GB, and come with Image Rescue software (prices range from $74 to $269 for the 600x and 400x start at $34 up to $299). In flash drives, we have the new JumpDrive Triton USB 3.0, in capacities from 16GB to 64GB. According to Lexar, the JumpDrive Triton takes just 35 seconds to copy 4GB, compared to 11 minutes with a standard USB 2.0 JumpDrive ($69/16GB to $199/64GB). Lexar also showed the new JumpDrive S73 USB 3.0 flash drive (from $27/8GB to $144/64GB).
OWC announced the Newer Technology miniStack Max, the latest version of its quad-interface powered hub storage solution. It offers plug-and-play ease with a Mac or PC via USB 3.0, USB 2.0, FireWire 800 (two ports—also suitable for FireWire 400 with adapter), and eSATA. In addition to adding an optical drive and an integrated SD card reader, the new miniStack can be configured with storage to 4TB (7200 RPM). It's aimed at Mac mini users, but it's also a welcome solution for a clutter-free desktop, and features three powered USB ports, one of which can be used to charge portable devices. Fan-cooled; measures 7.7x7.7x2.33".
SanDisk introduced the 128GB SanDisk Extreme SDXC UHS-I card ($399). The new card is ideal for photography enthusiasts capturing Full HD, 3D video, and high-resolution photos. Of importance to the still photographer, the card features up to 45MB/sec read/write speeds, enabling you to capture high-resolution sequences in burst mode and then quickly transfer a batch of 500 high-resolution photos in as little as one minute. For added protection, the card includes a one-year downloadable offer for RescuePRO Deluxe data recovery software, which can restore accidentally deleted images.
Sanho debuted CloudFTP ($99), a pocket-sized portable adapter. CloudFTP creates a Wi-Fi hotspot to stream and transfer data, turning a USB storage device into a wireless file server without using a computer. CloudFTP can also automatically connect to the Internet to back up and synchronize USB data with popular online Cloud storage services, like iCloud, Dropbox, and box.com, or it can join an existing Wi-Fi network to share files with other devices on the same network. Size and weight: 2.95x2.28x0.87"; 3.8 oz. Also new is the HyperDrive ColorSpace UDMA II (starting at $249) portable storage device, which now adds Wi-Fi connectivity and data recovery.
Toshiba America Electronic Components (TAEC) demonstrated the new TransMemory-EX series of USB 3.0 flash memory products in 32GB and 64GB models. The new products can transfer 25GB of content in about five minutes, compared with a half hour on earlier devices. Toshiba's new drives are fully backward-compatible with the USB 2.0 standard. Toshiba points out that eventually all PC motherboards and laptops will be designed with USB 3.0 ports. The new products support Windows ReadyBoost that allows use of external memory storage as a cache for a hard disk drive of a PC. This function is available for computers incorporating Windows 7 or Vista.
Verbatim announced new USB 3.0/USB 2.0 Universal Card Readers and a USB 2.0 Pocket Card Reader. Supported memory cards on the USB 3.0/2.0 devices: CF Type I and II, SD, SDHC, miniSD, microSD, Memory Stick (MS), MS PRO/Duo/PRO Duo/PRO-HG Duo/Micro (M2), MultiMedia Card, and xD-Picture Card. The USB 2.0 Pocket Card Reader supports many of the same cards, excluding CF and xD. Verbatim also introduced the Store 'n' Go Micro USB Drive Plus, which conveniently clips onto key chains, binders, notebooks, and more. Available in capacities from 4GB to 32GB, it has a USB 2.0 interface with a USB connector protected by a flexible cover built to withstand rough handling; multiple color options—starting from $19.
Western Digital introduced My Book Live Duo, a personal Cloud storage system with RAID (Redundant Array of Independent Disks) technology. In a RAID 1 mirrored mode, the two disks are constantly backing each other up, albeit with half the stated storage capacity (2TB = 1TB of actual data storage). For automatic backup Windows users can employ the included WD SmartWare software and Mac users can utilize Apple Time Machine. Remote access to My Book Live Duo is available on any computer through www.WD2go.com and with WD mobile apps for iPad/iPhone/iPod touch or Android smartphones and tablets. Additionally, the My Book Live Duo system's built-in media server streams movies, photos, and music to any DLNA (Digital Living Network Alliance) certified multimedia device, such as a WD TV Live streaming media player, Blu-ray Disc player, PlayStation 3, Xbox 360, and smart TVs. My Book Live Duo is available in 4TB ($399) and 6TB ($499) capacities.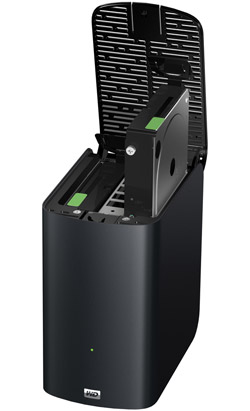 Contacts:
Hitachi Global Storage Technologies: www.hitachigst.com; www.g-technology.com
International Supplies/Nexto DI: www.internationalsupplies.com; www.nextodiusa.com
Lexar: www.lexar.com
OWC/Newer Technology: www.macsales.com; www.newertech.com
SanDisk: www.sandisk.com
Sanho: www.hypershop.com
Sony: www.sony.com
Toshiba America Electronic Components: www.toshiba.com/taec
Verbatim: www.verbatim.com
Western Digital: www.wdc.com
FEATURED VIDEO