Proper Exposure Is The First Step: Tips & Tools To Improve The Photographic Experience
"Everyone has a photographic memory but not everyone has the film."—Anonymous
Dick Stolley, who many consider Time-Life's best managing editor, once told People magazine photographers that a successful image elicited a "Gasp Factor" from the viewer. Stolley believed that if the image stopped the reader, forced them to take a second look, read the headline, and perhaps the rest of the story, the photograph passed his test. Often the best photographs—those "Gasp Factor" ones—are made under less than ideal lighting conditions. These images are made on stormy days, at the crack of dawn, sunset, or in the dark of night when getting the proper exposure can be a distinct challenge. It is those precious fleeting minutes when the quality of light provides photographers with images that separate photographs from snapshots.
A Clean Lens Is A Happy Lens
There's an old photographer's saying—I think I made it up—that if you take care of your equipment it will take care of you. Tip: When cleaning lenses, don't douse the front element with cleaning fluid. It's highly viscous and easily finds its way into nooks and crannies and with repeated use can cause problems. That's why I like to use the LensPen (www.lenspen.com) to clean my lenses. It's small enough so you can clip it in your shirt pocket or just toss it in your camera bag or backpack. The LensPen has two easily accessible working tips: slide out the natural goat hair brush on one end and use it to remove loose dust and dirt from the lens. Take the cap off the other end and use its flexible chamois tip that's embedded with a carbon compound to remove pesky fingerprints. The cap has a pad of carbon compound to constantly refresh the chamois. The LensPen is RoHS (Restriction of Hazardous Substances) compliant and meets California's Proposition 65 standards, and this indispensable tool costs less than $15!
Photoshop Actions Of The Month
Panos Efstathiadis (www.panosfx.com) offers this "cute" set of two free Photoshop Actions that lets you place your photographs inside a digital light bulb. The Photo Bulb Action creates an ordinary-looking, old-fashioned bulb, albeit with your image inside. The second action called Icy Bulb is cheerful and creates a festive light bulb with ice and snow layers, somewhat reminiscent of Efstathiadis's free Snow Globe Action that's also available on his website. Both Light Bulb Actions place a transparent image inside and let you create fun compositions! The actions work in Photoshop CS5, CS4, CS3, and CS2 (32-bit and 64-bit) while the Photoshop Elements Actions are compatible with PSE9, PSE8, PSE7, and PSE6.
Camera Bags For Nature Photographers
Lowepro's (www.lowepro.com) new Optics line of bags is designed for birders, wildlife watchers, and outdoor photographers to wear while clomping around in the field. The bags should provide long-wearing comfort and hands-free support for those who venture into the woods with their binoculars, optical scopes, digital cameras, and other gear that accompanies the well-provisioned outdoors enthusiast. Optics bags are constructed from water-resistant materials that resist abrasion and moisture and feature Lowepro's patented All Weather covers for more extreme weather situations. The Lowepro Optics Series consists of several bags, but my favorite is the Field Station beltpack ($99.99) that offers hands-free support for binoculars and other essential gear. It's tailored for beginning birders like me who need to spot and identify species and has a pop-up Quick Shelf that ensures that a field guide, notebook, or tablet-style computer are right at your fingertips.
Photo Mosaics
Artensoft's (www.artensoft.com) Photo Mosaic Wizard 1.4 is Windows-only software (although that is difficult to know from their website) that creates a photo collage from any number of pictures and has options for excluding duplicate photos and lets you improve the final result through colorization. The core of the software is an intelligent algorithm for building a natural photo mosaic so when the original picture is uploaded, the program analyzes its contents and arranges images into a tiled mosaic, taking into account factors such as the color, brightness, and shape of each fragment of the original. The software's latest version lets you overlay the source image to improve the quality of the final composition. Version 1.4 also removes the restriction of the number of pictures for building a mosaic—previous versions were limited to 1500 images but now you can create a photo collage from any number of images or even a single picture. You can download a free trial version from Artensoft and give it a try.
Looking for a Mac OS solution? Try the free MozoDojo (http://pierre.chachatelier.fr/programmation/mozodojo_en.php) application that automatically creates a mosaic that looks like, "from a little distance," according to its author, "a given image." The mosaic can be rendered at a high resolution so it can be printed poster-sized. MozoDojo lets you use photographs from iPhoto, iTunes, or shelves from Delicious Library (www.delicious-monster.com), Aperture, or a folder of image files. MozoDojo works by using technologies provided by Mac OS X, like Core Image, Quartz Composer, Core Data, Spotlight, QuickTime, and multithreading. MozoDojo's speed depends on the number of images that are stored in your database or how fine a grid overlay you pick. Did I mention that it's free?
Tether Tools Aero For The iMac
Tether Tools' (www.tethertools.com) Tether Table Aero for the iMac is designed to incorporate an Apple iMac or Cinema Display into the workflow of photographers and videographers. The Aero iMac measures 22x16" and features a SecureGrip Stability Bar across the top of the platform, under which the iMac is secured. The SecureGrip and the Aero platform are lined with nonslip padding to create a tight fit for any iMac or Cinema Display, protecting the monitor from slipping and getting scratched. When not using an iMac, the SecureGrip is easily removed from the table to allow the platform to be used as a laptop computer stand or workstation for keeping lenses, batteries, notes, or any kind of gear within arm's reach. The Tether Table Aero for the iMac integrates Tether Tools' new LAJO-4 ProBracket that has an Arca-style connection, allowing it to be used with existing equipment. The LAJO-4 also offers receptors for any 1⁄4-20 tripod head, 3⁄8" tripod mount, or 5⁄8" stud studio stand. The Aero iMac mounts to any of these stands—no adapters are needed—and includes a storage case to protect your table during transport or storage.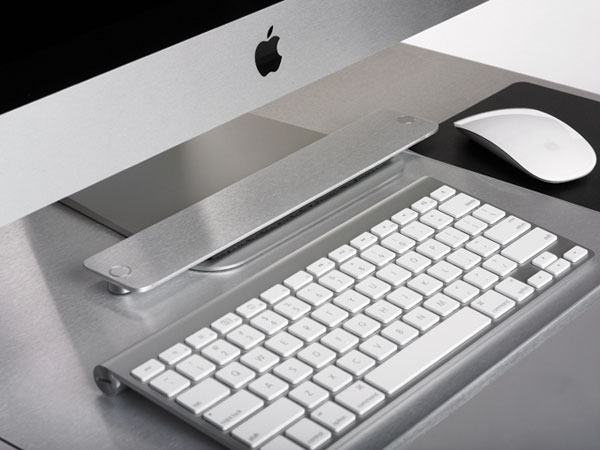 LATEST VIDEO